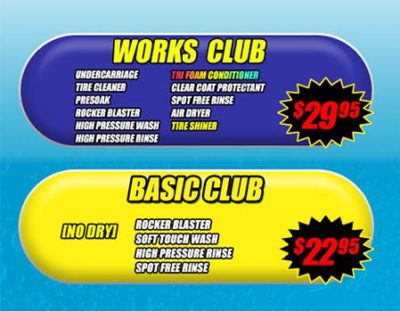 Clean Enterprise now offers a Wash Club Pass at both Oxford, PA, locations. The Wash Club Pass is an RFID sticker that affixes to your windshield and allows you to wash your vehicle as often as once per day! Members simply pull up to the carwash and their Wash Club Pass automatically registers a wash. No need to even roll down the window!  (This feature is currently only available at our Oxford locations.)
How Our Wash Club Pass Works
At the carwash entrance, select your package.
Pay using a credit card, and you will receive a receipt with instructions on when to return to have your RFID tag installed.
We charge your credit card each month for the amount of the package you have chosen.
RFID Tag Installation
Locations & hours for installation:
2140 Baltimore Pike, Oxford, PA 19363
Wednesday:  1pm – 6pm
Thursday:  8am – 11pm
Friday:  12:30pm – 4:30pm
Saturday:  12:30pm – 4:30pm
545 Lincoln St, Oxford, PA 19363
Tuesday: 12pm – 4pm
Thursday:  11:30am – 1:30pm
Friday:  8am – 12pm
Saturday:  8am – 12pm
For other tag installation options, call 610-467-0433 or email southoxfordcarwash@gmail.com.
Benefits
This is the best value in the area!
For less than $1.00 a day you can get your car washed and protected.
Clean Enterprises is the most economically friendly car wash around.
We use only use high-quality professional products in our machines and adhere to the highest quality of biodegradable products.
Terms and Conditions
Clean Enterprises reserves the right to cancel, amend or change this program from time to time as it deems necessary.
Maximum of ONE VISIT PER DAY per package purchased.
Only the car that is registered with the RFID tag is eligible for this program.
Damaged tags must be reported immediately. Any attempt to remove the tag will cause damage and will prevent it from working. Members will be charged for new tags.
Members must notify Clean Enterprises of any change in vehicle ownership and a replacement tag will need to be purchased at that time.
By enrolling in Clean Enterprises' Wash Club Pass, you agree to have your credit card automatically billed each month on your sign-up date for the amount due for the plan selected. You waive any and all rights to withhold or delay payment of the related credit card charges as described in agreement with the credit card issuer.
This service is currently only available at our Oxford locations.  Passes may be used at either Oxford location.